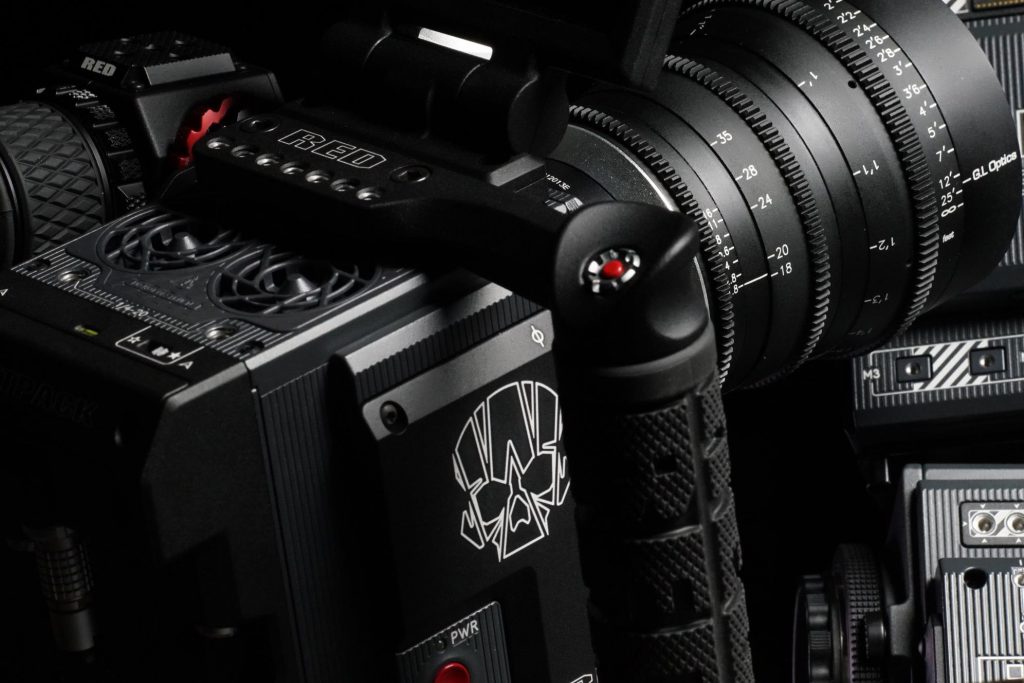 So you've decided that DSLRs are no longer good enough for your cinematic shots. You scoff at .mov and spit in the face of AVCHD. You have embraced workflow, are prepared for 4K, and RAW color correction is a must.
Raw is brilliant. 4K is sexy as hell… But understand that in moving to a that workflow you need to be able to color correct effectively, have a TON of storage, and have a computer system that is able to handle lots of data without dying.
If that's out of the way, let's look at the more popular wallet-friendly(ish) cinema cameras you can get your hands on.
Canon C300 Mark II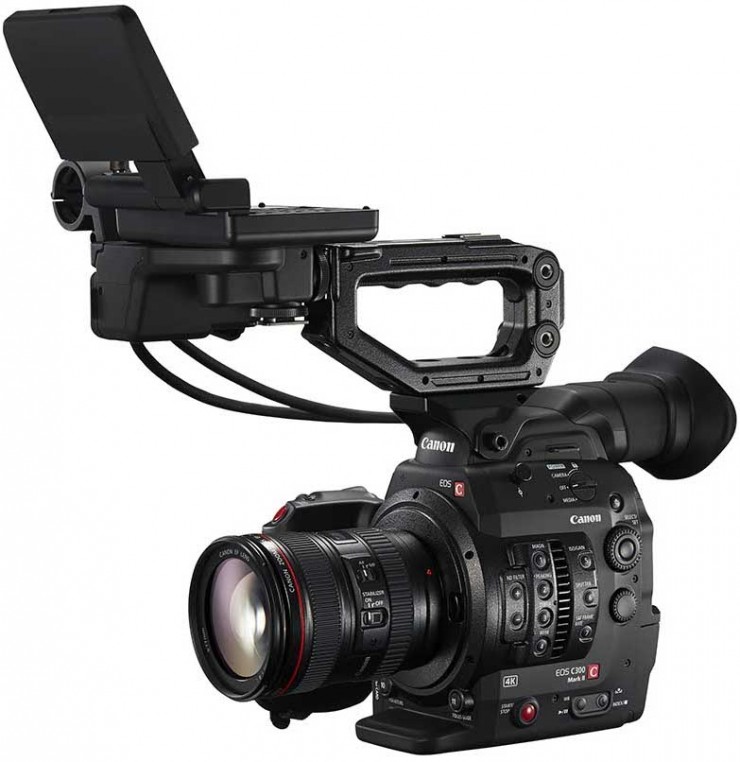 – Super 35mm CMOS Sensor
– Electronic ND filter
– 4K,1920×1080 60/50i, 23.98/25p True 24p
– Canon XF AVC H.264 Codec
– EF Lens Mount
– Dual Pixel CMOS AF Technology
– Rotating 4″ LCD Monitor
– 2 x 3G-SDI Output, 2x XLR Inputs
– 2 x CFast Card Slots
– Timecode I/O, Genlock In & Sync Out
– Canon Log 3 Gamma
Cost: US$10,000
The C300 uses XF-AVC codec that allows 4K image data to be recorded internally onto CFast (2.0) cards. (The camera features two CFast card slots and an SD card slot.) This makes it easy for users to record high quality compressed 4K images in the camera body without the need for external recorders. If full uncompressed RAW recording is needed, the EOS C300 Mark II Digital Cinema Camera can output its signal through dual 3G-SDI outputs to an external recorder. Canon's DIGIC DV 5 image processor, which uses an innovative method of breaking out red, green, and blue data to enable color performance on a level that would otherwise require three separate chips. The camera records up to 4K DCI resolution video to CFast 2.0 cards. For more flexibility to adjust your image during postproduction, the camera also offers Canon's Log gamma mode, which results in excellent tonal reproduction in the highlight and lowlight regions of an image, and an expanded dynamic range.
Key points:
Internal Raw Recording:  No
Lens Mount: EF
Media: CFast Card
Arri Alexa Mini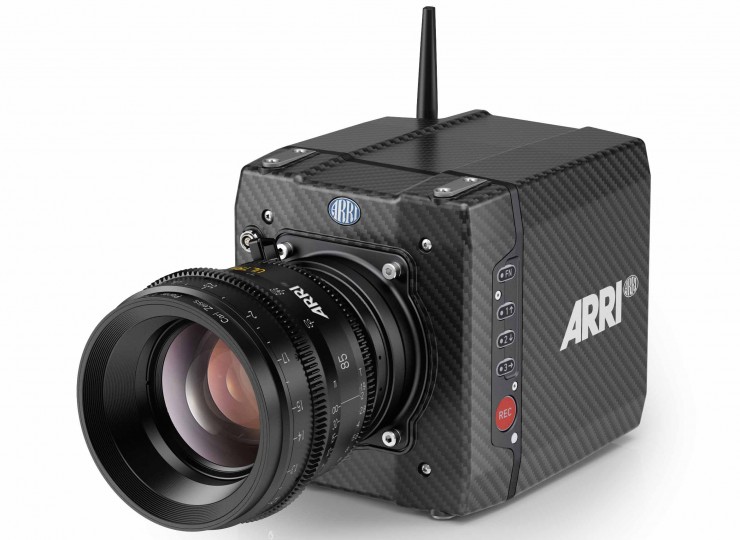 – ALEV III sensor same as ARRI ALEXA
– Compact for rigs and aerial work
– Integrated ND filters
– Frame Rates from 0.75 to 200 fps
– Recording in ProRes on CFast 2.0 Cards
– RAW & True anamorphic options Available
– High dynamic range & true colors
Cost: US$45,000
Arri's famous build quality is on display here, with a full carbon fiber body weighing it at only 5 pounds. The camera records directly to CFast 2.0 cards in a variety of flavors including ProRes at up to 200 fps and uncompressed ARRIRAW at 30 fps. The Alexa Mini also allows for in-camera CDLs and 3D LUTs. A recent firmware update allows DPs to shoot full gate on ALEXA's 4:3 sensor, making it an excellent choice for cinematographers who want to shoot true anamorphic without cropping the sensor.
Key points:
Internal Raw Recording:  Yes (Arriraw)
Lens Mount: EF, PL, B4,
Media: CFast Card
Doesnt not record 4K (3.2 upscaled)
Blackmagic Ursa Mini Pro 4.6K

– 4.6K Super-35mm CMOS Sensor
– 4608 x 2592 Video up to 60p
– CinemaDNG and ProRes 444 & 422 Recording
– Full Set of External Controls
– 2/4/6-Stop ND Filter Wheel
– Dual CFast 2.0 and SD Memory Card Slots
– 12G-SDI Output, Timecode and REF Input
– 2 XLR Audio Inputs with Phantom Power
– Interchangeable Lens Mounts – PL, EF, B4, F
Cost: US$6000
The wallet friendliest camera of the lot, the acclaimed Super 35mm 4.6K sensor block, known for its ability to capture cinematic images with subtle gradients and large dynamic range rated at 15 stops. The raw files preserve the full dynamic range and color tonality output from the sensor so you can have greater control over the look in post-production. However, data-heavy uncompressed raw files aren't always easy to deal with on-set, so in addition to uncompressed raw recording, the URSA Mini Pro provides compressed raw recording at 3:1 and 4:1 compression ratios to save space while retaining post-production flexibility. If raw capture is not necessary for your production, the URSA Mini Pro offers ready-to-edit industry standard Apple ProRes files in many different flavors within the 444 and 422 chroma subsampling variations depending on your workflow.
Key points:
Internal Raw Recording:  Yes (CinemaDNG)
Lens Mount: EF, PL, B4, F
Media: CFast Card & SD Cards
Sony F55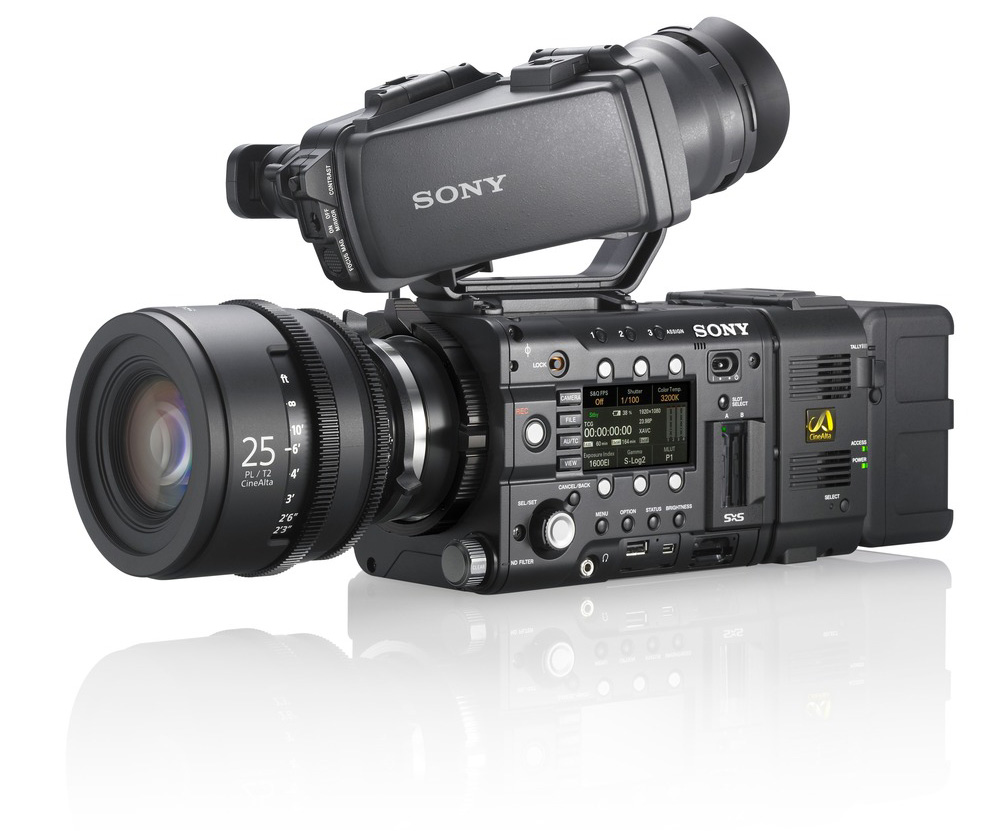 – 8.9MP Super 35mm CMOS Image Sensor
– Internal 4K/2K/HD Recording
– Electronic Global Shutter
– Highly Modular Design
– Optional 4K/2K RAW Recorder
– Up 240 fps 2K with Optional AXS-R5
– Native FZ-Mount and PL-Mount Adapter
– Dynamic Range Rated at 14 Stops
– Wider Color Gamut than Film
– SxS Pro+ Media Cards
Cost: US$28,000
Many digital sensors can match and even surpass traditional motion picture film for resolution and low light image quality, but with approximately 14.3 stops of dynamic range, film has maintained an advantage over most digital sensors. However, the F55's exposure latitude is rated at 14 stops of dynamic range, for truly film-like rendering of highlights and shadows. Moreover, the F55 incorporates the same color filter array technology used in Sony's flagship F65, for a color gamut that is even wider than motion picture film. The F55 CineAlta camera incorporates high-speed SxS PRO+ memory card recording that allows the choice of 8-bit MPEG-2 HD422 at 50 Mbps, 10-bit XAVC 2K/HD at 100 Mbps, SR Codec 10-bit MPEG4 SStP at 220/440/880 Mbps, and XAVC 4K/QFHD at 300 Mbps. All formats can be recorded at a range of interlace and progressive frame rates.
While the compressed XAVC are beautiful as it is, to shoot RAW you will require the Sony R5 recorder (US$5500) which captures native 4K or derived 2K. Sony RAW retains 16 times as many Red, Green and Blue gradations as 12-bit RAW and 64 times as many tones per channel as 10-bit recording. It also records up to 240 fps in 2k RAW.
Key points:
Internal Raw Recording:  No
Lens Mount: FZ, PL mount adapter included
Media: SXS Pro+ (which costs more than a bomb)
Sony FS7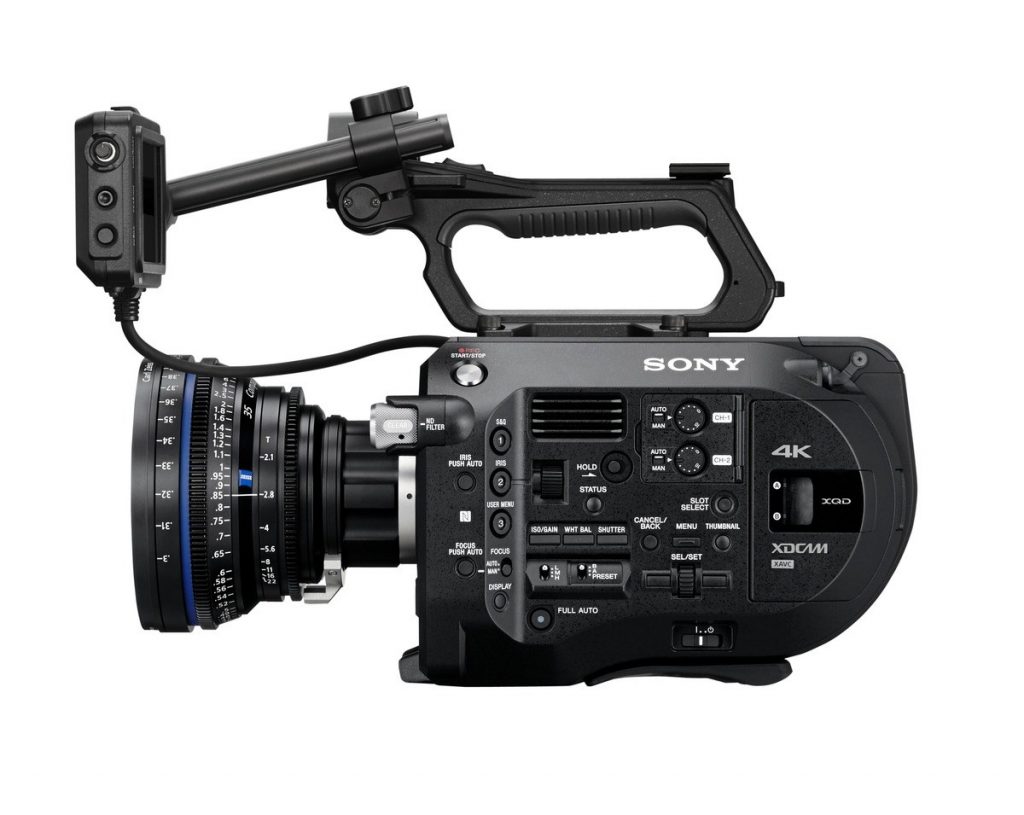 – Super 35 Sized CMOS Sensor
– Sony E-Mount
– DCI 4K (4096 x 2160) Up to 60p
– UHD Up to 60 FPS, HD Up to 180 FPS
– 4096 x 2160 Via External Recorder
– XAVC-I, XAVC-L, MPEG-2
– XAVC-I Up to 600 Mb/s
– Dual XQD Memory Card Slots
– Dual HD/3G-SDI & HDMI Output
– Ergonomic Handgrip with Camera Controls
The FS7 records in your choice of XAVC-I, XAVC-L, or MPEG-2. However, MPEG-2 recording does not support the high data rates the camera is capable of generating when shooting in UHD, and is limited to recording HD video only. The camera incorporates Dual XQD media card slots that support simultaneous or relay recording. To record raw, an external recorder like the Odyssey or Atomos is needed.
Key points:
Internal Raw Recording:  No
Lens Mount: E Mount
Media: QXD Memory Card
Red Raven 4.6K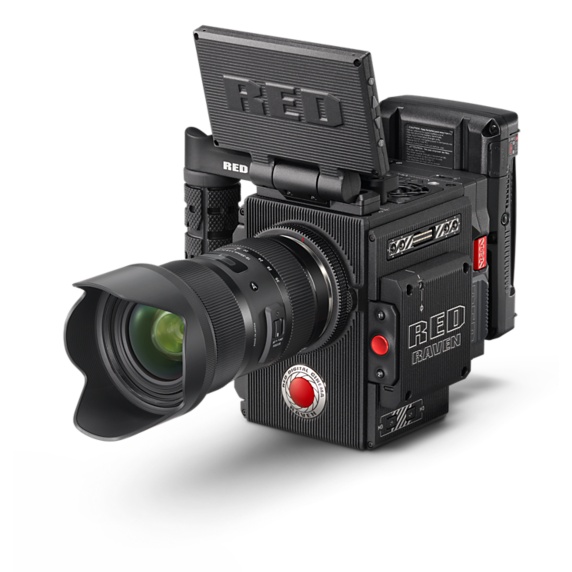 – RAVEN BRAIN with 4.5K DRAGON cropped sensor
– Built-In Canon EF Mount
– RED Touch 4.7″ LCD
– V-Lock Battery Module
– RED MINI-MAG Recording Media
– HyperCore Slim Batteries and Charger
– RED Work Mat
Cost: US$13,000
The no-frills, no-nonsense Raven offers you the choice of recording 4.5K, Full Format video at up to 120 fps, or for higher-speed shots, 2K Full Format at up to 240 fps. Recording codecs include the proprietary REDCODE RAW (R3D), Apple ProRes, and Avid DNxHD. Options include recording proxy files only, or capturing in REDCODE RAW (R3D) and Apple ProRes simultaneously.
RED's proprietary REDCODE (R3D) codec provides the flexibility of RAW files without the drive-busting storage requirements of uncompressed data. REDCODE RAW works with many popular NLE systems without the need for transcoding. Compatible programs include Adobe Premiere Pro, Blackmagic Design DaVinci Resolve, Apple Final Cut Pro, and Avid Media Composer.
Key points:
Internal Raw Recording: Yes (Redcode Raw, Apple ProRes, Avid)
Lens Mount: F Mount
Media: RedMag (which costs a bomb)
Not a Super35 sensor, but a smaller cropped Dragon sensor
---
Our Thoughts:
Transitioning from a DSLR to a full fledged cine cam is already a headache in the workflow department. We believe in switching to a system that is fast, clean and easy to use out of the box. With that, we feel that the Blackmagic Ursa or the Red Raven will serve as an excellent next step. For those with near unlimited budget, the F55 and Alexa Mini will shoot anything short of Hollywood and then some (provided you have the skills and crew to do so). Run and gun production houses will find the Raven shooting undeniably beautiful footage in RAW with minimal correction, but the cropped sensor and using Red-only accessories will put off users with a tighter budget. The Ursa is much more forgiving with options to shoot compressed formats, and reasonably priced, 3rd party accessories readily available. But, if you are serious about lean, RAW-only workflow with the best storage, processing and rendering capabilities, with a surprisingly easy and straightforward touch-screen interface, the Raven is the way to go.