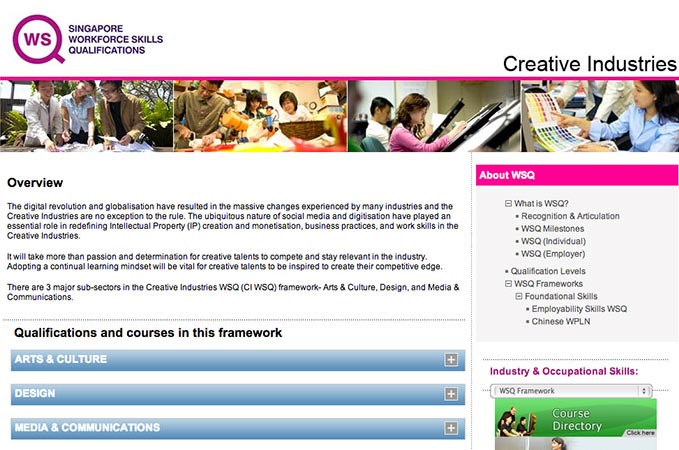 As the world steadily melts into a state of globalisation, we observe a digital revolution beginning to take form. For one; Singapore had a significant growth of the arts and media companies from 2000 to 2009 that has yielded not only a sturdy contribution to the GDP growth, but also a rise and demand of talents in the Creative Industries.
The three major sub-sectors in the Creative Industries under the Singapore Workforce Development Agency's (WDA) magnifying glass are the Arts and Culture, Design and Media & Communication. The Singapore Workforce Skills Qualifications (WSQ) courses are designed to keep the employees of Creative Industries like us abreast with the fast-changing mechanism of the digital world with industry-relevant skills. Learn more about it here.
Some of these WSQ professional short courses include – Concept Drawing, Digital Painting and Dynamic Sketching, as well as a WSQ Diploma in Industrial Design.
For Small and medium enterprises that are looking into sharpening employees' skill sets, you would be pleased to note that these courses can be co-funded or subsidised by WDA.
The training providers at WDA are equipped to train, improve and enhance employees' skills set, whilst driving national competitiveness, likewise in the global arena. We headed here to look at the courses relevant in upgrading the skills of our creative team.
We believe that passion and talent are the fundamentality that sculpts the Creative Industries. However, our team understands that to be a step ahead, industry relevance is equally crucial.
With vigour, we welcome and applaud WDA for its providence.