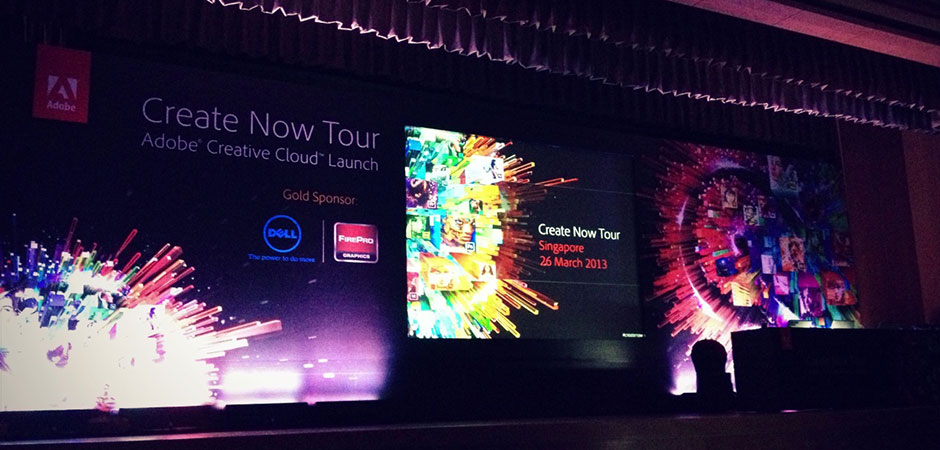 A few weeks ago our team attended Adobe® Create Now Tour at the Ritz-Carlton Millenia in Singapore. At the launch, we learned about what's new in the latest Adobe® Creative Cloud™.
Michael Stoddart started the event by showing how web developers can use the Adobe® Muse™ to design sites for multiple platforms without writing a single line of code (and suggesting that everyone can now be a web developer like him). Evangelist Paul Burnett introduced Adobe® Edge Animate, software to create interactive and animated web content that makes animation look like child's play (seriously, he made it look so easy). Karl Soule explored the new Adobe®After Effects® CS6, proving how the updated version is able to transform an image to a 3D product, in a snap.
The Adobe® Creative Cloud consists of more than the 3 software mentioned earlier. In fact every application they have can be found in Cloud. Read more about it here.
Evidently, Adobe® has allowed their different software to seamlessly integrate and communicate with each other to facilitate creative processes. It is a technical solution to the problem that everything is "highly specialised despite being in a world of increased flexibility", according to Stoddart.
The most important takeaway is how businesses utilise these tools, and its integrated system via cloud computing.
With the entire technical workspace available in Cloud and easily accessed by a creative team of designers, web developers and animators, how can we leverage this to integrate all the software (or just relevant ones) into 1 outstanding product?
Just like how Burnett put it:
"Should you use animation? Yes. Should you use it for everything? No."